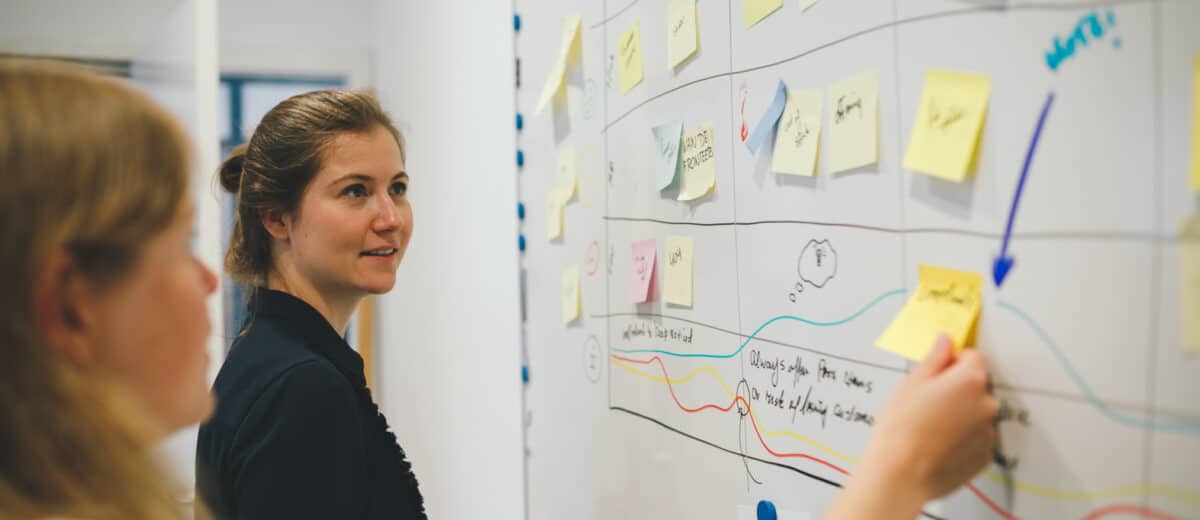 5 tips for a successful customer journey implementation
Insight into the journey that your customer makes is worth gold. With love you invest time, budget and energy to find out what the wishes and pain points are. And so you get started with a visual customer journey map. Fantastic! But then? What's the next step? How do you ensure that your colleagues actually get to do something with the insights? And how do you keep it up to date? We are happy to help you on your way with these five tips!
Applying the customer journey map
Customer expectations are getting higher and higher, both in B2C and B2B. Information must be easy to find and processes and systems must speak for themselves: the customer journey must run smoothly. And so, more and more companies see the added value of customer journey mapping. The customer journey is made transparent and visual on the basis of extensive research.
But of course it doesn't stop there. The customer journey map is a tool to use. At least as much attention must therefore be paid to the implementation of the insights. It is about organizational change. The customer's needs should be top-of-mind with every colleague. You can't get this done overnight. Only step by step – and with the right tips – you can bring the customer journey map to life in your organization.
1. Appoint a number of colleagues as ambassador
The implementation of a customer journey map stands or falls with internal involvement. Fortunately, there are enthusiasts in every organization who want to act as ambassadors. This means that they show exemplary behavior and share experiences. They are the internal point of contact and regularly ask how colleagues work with the map. Does it work for them? What issues are they facing?
Of course there are always people who find change exciting. But in the end everyone wants to know who they work for, right? Thinking from the perspective of your customer must become part of the DNA of your organization and you can only do that with the help of ambassadors. We have created the opportunity for them in our Academy to make a jump-start!
2. Share the customer journey map in various places
A customer journey map is an internal means of communication, an instrument. It is a document that you continuously look at and get inspired by. Therefore, prevent it from ending up on the shelf somewhere. Or that it is only available digitally. Instead, make sure that your colleagues encounter the customer journey at various moments.
So not only on the intranet, but also, for example, during the monthly department meeting and at the coffee machine. Constantly remind your colleagues who they work for. And don't forget the onboarding of new employees!
3. Make the customer journey workable for everyone
It is not only important where you share the customer journey map, but also how you do this. Is the customer journey explained on the basis of one video for the entire organization? Does everyone have to understand the total in detail or do specific perspectives suffice for departments and teams? Is only the whole visible or can specific processes and personas also be zoomed in?
Try to make the customer journey map your own as much as possible. For example, create a moment with your team to analyze the total customer journey. Which insights are important to you? Which are recognizable? And then make clear agreements about how to respond to certain situations. This way everyone knows what their options are to keep a customer as satisfied as possible.
4. Look for 'quick wins'
While you are analyzing the customer journey map with your team, it is smart to immediately look for the 'quick wins'. Are there certain insights that you can solve easily and quickly? For example, do you see that customers regularly ask for specific product information? Then make a standard for this: offer a download when it is needed. These kinds of quick wins have a quick effect, which you can then celebrate! This helps to enthuse colleagues.
5. Make the customer journey a continuous process
Remember that the customer journey map is not a static document. Certainly in the digital world we live in, insights are sometimes outdated in no time. The broad outline of the customer journey is somewhat solid, but the interpretation of the insights is changing. For example, because procedures change or new technologies arise. And if all goes well, you continuously remove pain points and new perspectives arise doing so.
Therefore, make sure you continuously update the visualized customer journey. Involve colleagues who have regular customer contact and the customer himself. Give colleagues the opportunity to track insights and frequently asked customer questions and pass them on to the ambassadors. Ensure that important customer data is continuously measured and evaluated. In other words: make sure your customer insights are up-to-date. A tool like Smaply helps you with this.
The right customer experience
Do you need help implementing your customer journey map? We are happy to help you! With a pragmatic and flexible approach, concrete actions and guidance from start to finish. Together with you, we ensure that the customer journey comes to life in your organization. You can also contact us for the practical translation of customer insights into digital channels.
Don't have a customer journey map yet, but would you like more insight into your customer's journey? If you develop it together with us, we make sure that you think carefully about how to involve the rest of the organization right from the start. Nice and efficient!