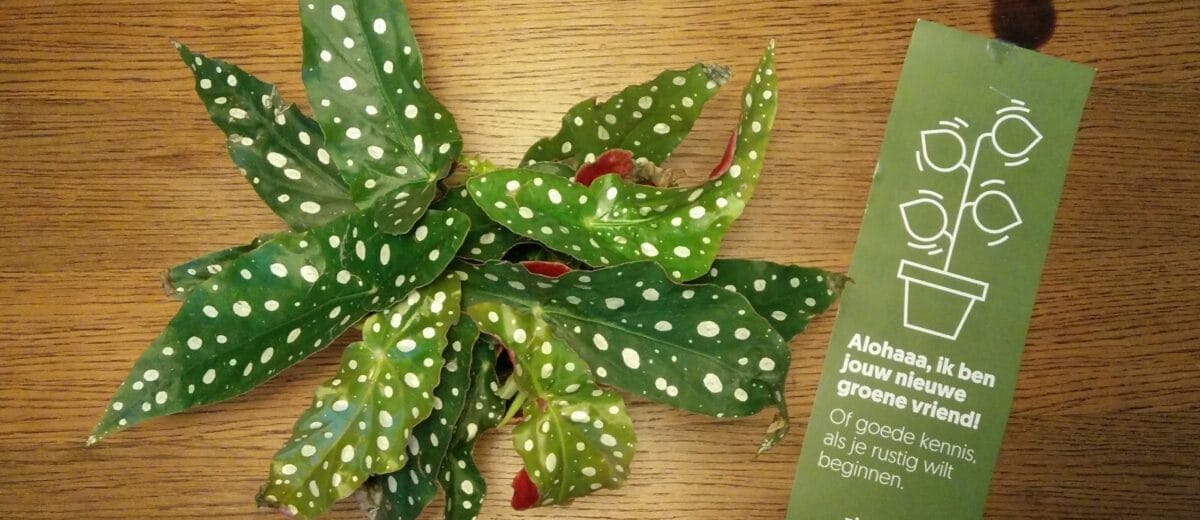 The fun of humor in customer experience
For my birthday I got a voucher for Plantsome. I was told that it is a nice webshop where I could choose a plant for my new home in Utrecht. Since the timing of the gift was not that convenient, I postponed the ordering until after my vacation. As a foretaste, along with my voucher, they had sent me a small air plant in advance: named "Fred". Along with tips on how to take best care of Fred. For example, he does not need water and I read: "going binge drinking with Fred ain't gonna happen". "Funny", I thought, "Welcome to my house Fred!".
Because Fred was sent as a foretaste, I was looking forward to order a plant at Plantsome soon: it seemed like a nice webshop. In the meantime, Fred made me think. During my time as a student in Enschede I was a member of the cabaret association of the university where we wrote our own sketches and songs. I learned a lot about humor there and how you can present humor well on stage.
But what does humor do for your customer experience (CX)? And how can you use humor to give your customer that surprising experience? And what does such a funny Fred-plant, sitting on my windowsill at home, do with my perception of a brand? In this article I'll share insights and tips about using humor to create a good customer experience.
Three reasons why using humor contributes to a good customer experience
1. Humor makes you human and connects
When we laugh with each other it's good for building relationships. Humor creates a certain intimacy that builds and strengthens a relationship between two people. When you use humor in an effective way you show that your organization can make a connection with your customers. Humor makes you more personal and more human.
Research in a B2B setting also shows that the salesperson's use of humor has a positive influence on the creativity of the salesperson and the trust of the customer. Humor is a unique human ability that we can use to develop strong relationships, also in a business setting.
2. Humor makes customer contact fun
Humor has the power to make a good experience even more pleasant, or to make a bad experience less unpleasant. Often when I order something, all kinds of things go wrong: it's broken or it's not the right size. I already get tired of only thinking about having to call the customer service of a company. Humor can help to make customer contact informal rather than boring. That way, customer contact is not frustrating and tiring for your customer, but it can result in a positive experience that you tell your colleagues about at lunch.
If your organization wants to create that surprising experience for your customers, you must embrace and further develop the natural sense of humor of your staff. Humor not only yields something for your customers, but also for your employees. Enjoyable interactions with a smile at the other end of the line causes work to become more pleasant and that employees feel happier in their work. And happy employees are more loyal.
3. Humor makes you memorable
A little sense of humor in your communication and customer contact makes you stand out. Research has shown that the use of humor can also cause a substantive message to be remembered better when humor is used.
The plant I bought with my voucher at Plantsome had a name: Pippi, and it came with instructions about what Pippi liked and how you should take care of her: Pippi's survival guide. As if you were dealing with a person with his own character. Whatever you may think of it, it stands out. A positive experience is forgotten less quickly and will be remembered.
Some tips to apply humor for optimizing customer experience
At my cabaret association I learned that timing, the right energy and tone, interaction with the audience and your fellow players, creativity and a well-written text are ingredients for a good piece of cabaret. But how can you use humor to create a surprising customer experience? I'll give you some tips:
Sense your audience.
It is important to sense the mood of the person that you have in front of you. Humor can also turn out badly. Therefore, carefully read the tone and mood of the customer and adjust your response accordingly. Imagine being the customer: what could you appreciate in the given situation?
First test the reaction with others.
Comedians always do multiple try-outs to test their stories and jokes with their audience. Test your message with a selection of customers. Or in the case of a small message, it can be as simple as asking different people around you what they think.
Respond to current events.
An obvious but fun way to be surprising and differentiate yourself as a brand. It seems simple, but it not always is. Responding to current events ensures momentum but requires good timing. It surprises and easily stands out if you know how to respond quickly and in an appropriately funny way to recent events.
Don't force it.
At my cabaret association I learned that you should not try to be funny. That will be counterproductive and makes people feel uncomfortable. It can cause you to come across as unprofessional. Humor is not a goal in itself, but it can help you if you use it naturally in customer contact. Just like a well-timed joke on a family birthday or in the pub. Be professional and personal at the same time.
Stay yourself, stay on brand.
Make sure that the tone of voice matches the rest of your communication and your identity. Do what suits your organization!
Examples of the use of humor by well-known brands
Chocomel challenge 2019
The Chocomel cartons with letters on them have been in the stores for a number of years now. Mid-October, Chocomel released a nice video (in Dutch) that was quickly viewed countless times. In the video you see two men doing groceries. In the supermarket they make word jokes by making words with the lettered cartons of Chocomel and adding a supermarket product to it. This simple and unpolished video certainly made me laugh. Secretly, you start thinking while watching: what would be a good word joke to make when I'm out there at the supermarket myself?
Cleverly done by Chocomel, this way your customers can get started with your joke themselves. That way you also see it physically in the supermarket because people can play a joke with your product. Which makes it stand out. This way the joke doesn't stop at the commercial, but also ensures fun interactions in 'real' life. And online: when you look for #chocoladeletters on Instagram you can find many more word jokes if you feel like it!
Albert Heijn's 'boodsgrap'
Albert Heijn is known for using humor on social media. An example is the 'boodsgrap' (a Dutch word joke): employees and visitors who tell a (silly) joke. Humor is of course also a matter of taste. Personally, I don't like 'boodsgrap' of Albert Heijn. My colleague, on the contrary, thought it was hilarious and had also forwarded it to friends. To me it seemed too 'fake': too much of a staged joke. Moreover, I wondered, why do all those people have to laugh so hard at the jokes they have written and told themselves? It turned out that customers did not know in advance what kind of joke they were going to read, which causes their reaction to be authentic. Well, humor stays different from person to person.
View this post on Instagram
NOS stories reactions
I really enjoy organizations that dare to give witty reactions. It is a challenge to manage all negative responses on social media and yet create a positive experience. Or where possible, to convert negative reactions into a more positive atmosphere. NOS stories, the news bulletin that is aimed at young people from 13 to 18 years old, knows the ropes. Like in this Instagram post about a match of the Dutch women's soccer team.
View this post on Instagram
Does humor work in customer experience?
Applied well, humor certainly has added value and can provide a surprising and positive customer experience. Let's face it, in the end I have paid 30 euros for a pot and a plant. But I already forgot about that. It was an amusing experience and moreover: I have a nice new dotted plant in my plant collection!
Let's talk!
What does your organization do to deliver a surprising customer experience? I am curious about your experiences! And of course, I'd enjoy discussing the impact of humor on customer experience with you. Don't hesitate to contact me.